Anna Mathur is a trained Psychotherapist, a fervent communicator and is passionate about equipping people to fight anxiety and depression.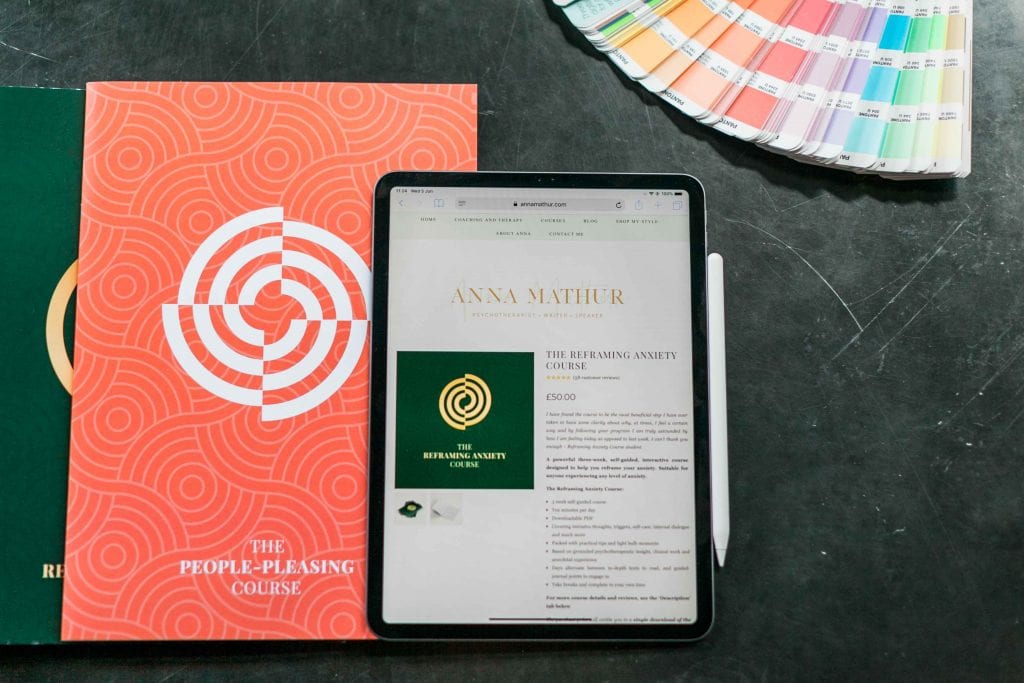 Early this year I had the absolute pleasure of working with Anna Mathur. Anna is an accredited Psychotherapist who runs a private practice at her home. Over the past couple of years Anna has gained a significant Instagram following through sharing her own story in the hopes that others will be inspired to do so too. Anna regularly does Mental Health Lives on Instagram stories and is full of advice and wisdom.
Anna had written her course Reframing Anxiety and needed a solution on how she could get it out there. I worked on the course artwork and then developed an e-commerce solution that worked on Anna's current website. Soon after we worked together again to create the People Pleasing Course.
My goal was to artwork the courses in a way that complemented her writing and I wanted to be mindful of the customers who would be reading and working through them. I came up with a house style (at that time Anna didn't have a brand to work with). I can proudly say that we achieved it and I'm so grateful that Anna allows me to be a part of this journey. I'm so excited for the next projects we have to launch!
PROJECT TYPE
Reframing Anxiety Course Artwork
E-Commerce Solution

After fumbling my way through a simple WordPress build, and writing a new Course I wanted to sell via e-commerce, I felt out of my depth, and knew I needed help! One phone call with the warm and lovely Amber, and I felt immediately excited about how she could help me grow my business with her skills. She immediately 'got' my vision and used mood boards and experienced suggestions to develop my ideas into something tangible, that communicated exactly, the essence and personality of my writing. Amber is hugely efficient, creative and knowledgable. Her support, insight and skill has been invaluable in the development and launch of an online course (which also happens to look fabulous because of her!). Her ability to troubleshoot made the product launch seamless, as she worked quickly in the background. I originally invited Amber to help me with one element of my website. She has just finished our second project, and I have already lined up a whole list things I can't wait to have her involvement in. Finding Amber, and investing in her services, has been the best move of my self-employment thus far. I've no doubt she is going to be pertinent in the evolution and development of my brand, and future products. I simply couldn't have done it without her.
Anna Mathur
Not sure what you need? Have an idea but aren't sure of the best way to execute it? Let's have a chat about the best possible route for you, your project and your business.